HOW YOUR DONATION BENEFITS BURROWING OWLS
Our program is growing each year and so are our costs
FEEDING HUNGRY CHICKS
Our program is growing each year. So are our costs. With more owls we need more food and care for the birds, both for our breeding centres and in the field. Burrowing Owls do best when they are fed mice. You might be surprised to know that each owl can eat 2 mice a day. These cost just under $1.00 each. This year we'll have over 120 owls to feed at our BC Wildlife Park facility alone. With 3 facilities our food budget for a year is over $200,000!
With more owls raised and released each year our program's success is growing. Each year more owls return to the breeding ground from migration.
Our goal is that one day there will be enough burrowing owls returning to raise their families in BC grasslands, that they will no longer need our help.
HOUSING BURROWING OWLS
Building and maintaining breeding facilities is an expensive undertaking.
Volunteers assist in the daily chores maintaing the facilities with cleaning, weeding, and general upkeep. If you would to help on the annual working bee we always need volunteers.
Please consider a financial donation so we can purchase equipment and supplies that help provide a safe environment for captive birds.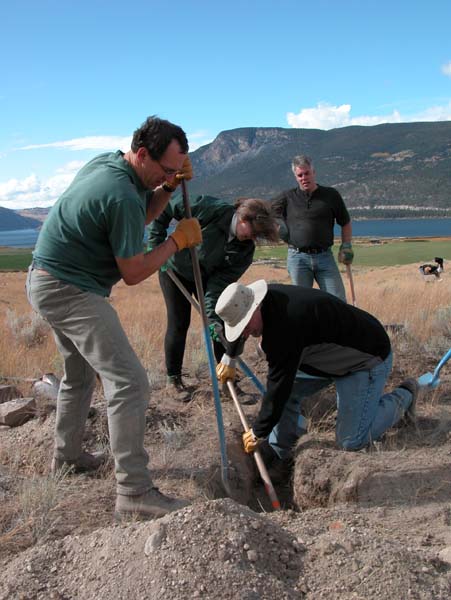 BUILDING NEW NESTS
Over the years we have learned a great deal about "burrow technology". We have learned about selecting better materials, how to build better nesting chambers, how to place burrows for the safety of the birds and improve their hunting opportunities. Equipment, supplies and travel all cost $$. Please help by donating.
EDUCATING FUTURE GENERATIONS
Imparting a knowledge and love of these beautiful birds is a key to their future success. A donation to the Burrowing Owl Conservation Society will provide for food, shelter and veterinary care for our little charges. Your contribution will also support the fieldwork for the owls (and their young) once they are released.
Pellet Post Gallery 2009-2013
Sponsor BOCS BC
We welcome sponsorship from private or public environmentally concerned groups. 

You can make a tax deductable donation online via Canada Helps.
Or you can donate by mail, by sending a cheque to the following address
The Burrowing Owl Conservation Society of BC
500 Burrowing Owl Place
Oliver, BC
V0H 1T1
Canada
Become a member
Your membership is very important to us, to hundreds of returning Burrowing Owls, and to future hatchings.
Annual membership dues are $25 per person.
Membership is valid from April 1 through March 31.
As a member you will receive: The Pellet Post, our online newsletter E-mail notification of members' special events, and volunteer work parties.
Leave a legacy
Remembering the Burrowing Owl Conservation Society of BC in your will provides a legacy that lives on.
Click here for
suggested wording for your bequest
.
Please let us know if you intend to create a legacy.
Download the Brochure
Send a cheque by mail to:
The Burrowing Owl Conservation Society of BC
500 Burrowing Owl Place
Oliver, BC
V0H 1T1
Canada