BURROWING OWL CONSERVATION SOCIETY of BC
We build and maintain nesting burrows in conservation areas for burrowing owls.
Volunteers are essential for making this program successful. If you are interested in volunteering, please contact us at
bocsbc@gmail.com


We raise and care for owls in dedicated breeding facilities. They are cared for by trained staff before reintroduction to the wild.
These centres are far apart in order to protect the birds in case of disease or disaster.
They are located at: Kamloops, Port Kells and Oliver.
Releasing Owls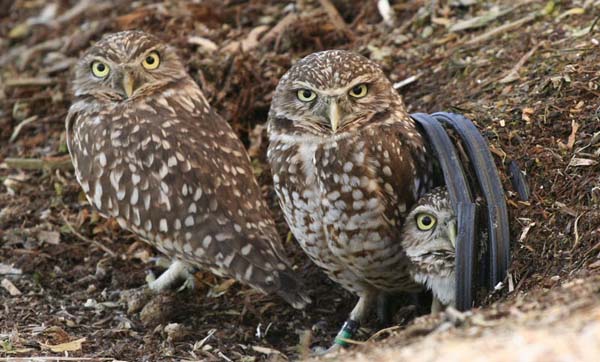 After a year in the breeding facility young owls are tagged, paired and released to the wild. We monitor their success and report to BC government.
We support and promote educational and interpretation programs to inspire future generations who will conserve these iconic grassland birds.
Meet our Field Team
Lauren Meads
Executive Director
Lauren is passionate about animals and has Master's of Science in Applied Animal Behaviour from the University of Edinburgh Scotland. She has a great commitment to the conservation of burrowing owls.
Lia McKinnon
Field Biologist
Lia has been with the project for several years and confidently handles owls and their chicks as part of the spring and summer field program. 
Charyl Omelchuk
Field Biologist
Charyl works with the burrowing owl program in Kamloops. Her owl catching skills are unsurpassed and she is an asset to the program
Tracy Reynolds
BC Wildlife Park
Tracy is Animal Care Supervisor at BCWP. She looks after the burrowing owl captive breeding program in Kamloops.
News articles
News articles
Captive breeding only works when animals can go home

By David Suzuki with contributions from Ontario Science Projects Manager Rachel Plotkin

B.C. is spending hundreds of thousands of dollars on a captive breeding program to protect spotted owls. With an estimated six of the owls left in the wild in Canada, all in B.C., that seems like good news. But while the program includes some habitat protection, the province is also approving logging in habitat the owl needs to survive.

It's a major flaw in government-led conservation efforts. Stories of captive breeding programs that lead to successful animal re-introduction are happy, but they're often born out of sad stories about the animals' plight.

Captive breeding programs are last-ditch efforts to save animals after humans have degraded or destroyed their habitat to the point where it's difficult for them to survive. In almost every case, experts and regulators are aware of the species' decline and the reasons behind it, but calls for habitat conservation go unheeded, or efforts are inadequate to ensure the animals can continue.

Species don't disappear overnight. Activities that degrade and destroy habitat are allowed to continue until a species is driven to point where it can no longer function in the wild and needs human help.

Conservation would work better if land-use management regimes focused on maintaining habitat wildlife needs to survive before it's too late. Instead, we wait until tipping points have been passed and then scramble to capture animals for breeding.

Captive breeding itself is often controversial, riddled with risks. When humans handle wildlife over generations, animals can become semi-domesticated and lose intergenerational knowledge about survival in nature. Once they're re-introduced into the wild, many don't make it.

The odds of captured predators such as tigers and wolves surviving freedom are only 33 per cent, according to recent research, and studies show captive-bred animals are more likely to interact and mate with other captive-bred animals and lose their ability to communicate with wild peers. Another study concluded captive-bred animals may develop behavioural changes such as "decrease in predator avoidance, decrease in foraging abilities, increase in sleeping patterns, decrease in overall activity, and some problems in social behaviors."

The intergenerational effects are biological as well as cultural. One study showed captive breeding can result in genetic changes between captive and wild lineages, and confinement can make animals more susceptible to disease outbreaks. (A tragic lion-breeding program resulted in the deaths of nearly two dozen "struck by a mysterious disease aggravated by inbreeding and a weakened gene pool.")

The main issue is the risk of releasing captive-bred wildlife into degraded habitat that couldn't support it in the first place. Most examples of successful endangered species recovery involve animals facing threats other than habitat loss. Eagles were declining because of DDT contamination until it was banned. Condors were being poisoned by lead in the bodies of the carrion they ate until lead shot was limited.

Written on Tuesday, 27 August 2019 05:24

Owl evacuees get comfortable in new home in Kamloops

Written on Tuesday, 27 August 2019 04:09

Burrowing Owl Events

Boosting awareness of burrowing owls and their habitat will be the focus of three events beginning next month, hosted by the Burrowing Owl Conservation Society of BC and World Wildlife Fund Canada.

Burrowing owls, an at-risk species, are "charismatic little ground dwelling owls of semi-arid grasslands," the society said, adding they are native to the southern Interior.

The society breeds and releases owls into the region, and volunteers build artificial burrows for them to nest in upon being released.

The first workshop takes place on Sept. 8 from 10 a.m. to 2 p.m. near Oliver, at a breeding facility located behind the South Okanagan Recovery Centre for Owls.  There, participants will build burrows before a discussion on conservation for the final hour.

A second event will take place on Oct. 5 at the Osoyoos Visitor Centre, from 9 a.m. to 4 p.m. Attendees there will head to a "well-established site" to install burrows and remove invasive plants from their entrances.

A third event is scheduled for Oct. 13 at the Quilchena Resort near Merritt from 8 a.m. to 3 p.m., similar to the one taking place in Osoyoos.

"The fall is a perfect time to install and/ or repair burrows for the owls as they have migrated to their wintering grounds in California and even into Mexico," the society noted.

Space is limited, and those looking to participate can find more information and register here.

Article by Castanet

Written on Friday, 07 September 2018 23:37
OUR CONSERVATION COOPERATORS
CONSERVATION
If you spot an owl in the field we would love to hear about it.
Please email us at
bocsbc@gmail.com


Include details of the location, time, date, weather conditions and what the bird was doing. If you took a photograph please include it. Tell us if you noticed any bands or coloured marking on the legs.
BOARD OF DIRECTORS